COME FISHING…. FOR PLASTIC!
Fun and sustainable
Help make Amsterdam plastic-free with the first plastic fishing company in the world! Plastic fishing has become a very popular activity in Amsterdam and Rotterdam. Jump aboard and we organize an unforgettable experience!
The plastic we collect is recycled into furniture and more boats—the same kind of boat we'll use on our outing. Because of Corona, many organizations cannot physically come together for a team or business activity. That is why we have been able to adapt all our activities to the additional rules.
Any questions? Please call us at +31207373049.
"Plastic fishing is for the Tommy Cares Foundation a unique way to connect fun and a socially responsible goal. Every time our people go fishing again they're full with enthusiasm!"
Robert Monas - Tommy Hilfiger European Foundation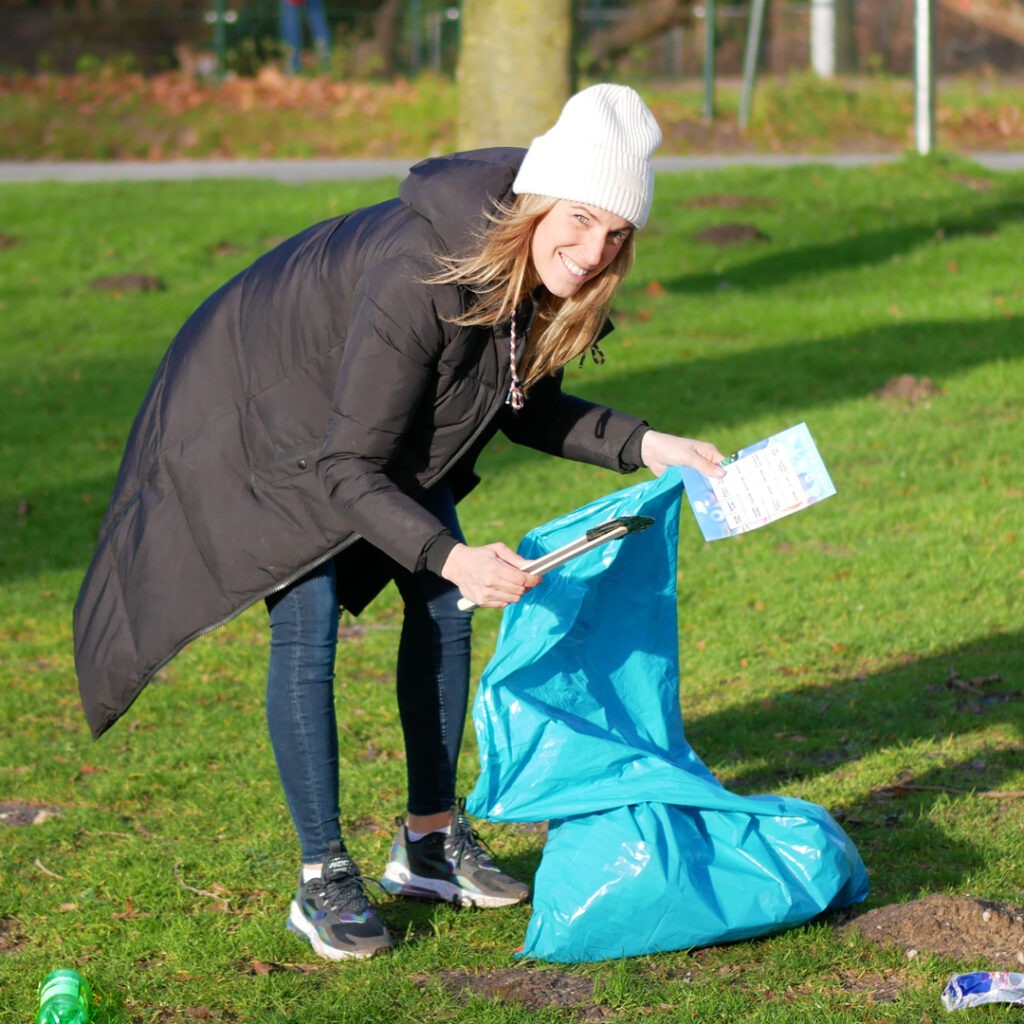 Company Cleanup - Online
With The Company Cleanup - Online, your organization can commit itself to a plastic-free environment in a Corona-proof manner by meeting them in an online environment. Each colleague individually from their home office, yet together as a team!
Online company outing
10–100 persons (at the same time)
2 - 2.5 hours
All from your home office and space
The 'Whale I Know?' Quiz
Cleanup package!
€25 (ex. VAT) per person for the cleanup package
Production fee starts from €500
Brochure pdf (english)
Brochure pdf (dutch)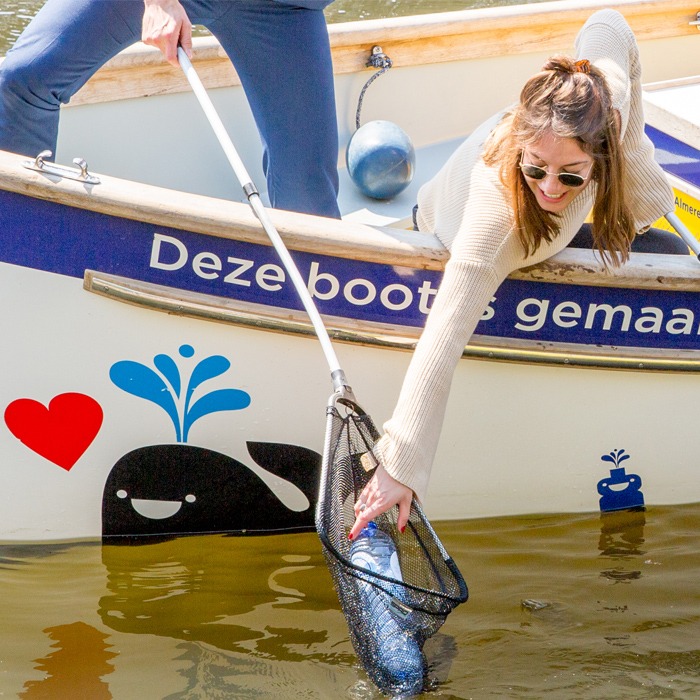 Company Fishing
Plastic fishing has become a very popular activity in Amsterdam. More than 450 different companies have already gone plastic fishing with us. Want to be involved in our mission too? Jump aboard and join us in one of our boats made of Amsterdam Canal Plastic!
Company outing
4 – 30 persons (max. 4 persons / boat)
2 hours, private boat with skipper
Landing-stage of your choice
Presentation of our main skipper about the arise of Plastic Whale
Competition with great prize
Price per boat €250,- (ex. VAT)
Brochure pdf (dutch)
Group bigger than 30 people? Please contact us and we will organize an unforgettable team outing!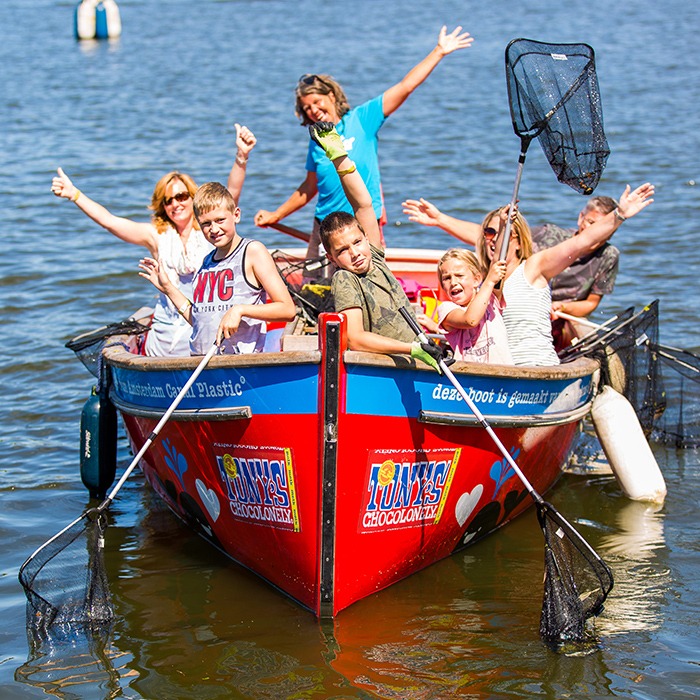 Family & Friends Fishing
Rent a private boat with family or friends for this 1.5 hours outing! Our skipper will show you the highlights of the beautiful canals, and we'll make the city a cleaner place along the way. The trips are in Dutch and English, and it's great for kids!
Family and friends
Max 6 persons per boat (household)
2 hours, private boat with skipper
Landing stage: Herenmarkt
Price per boat €200,- (incl. VAT)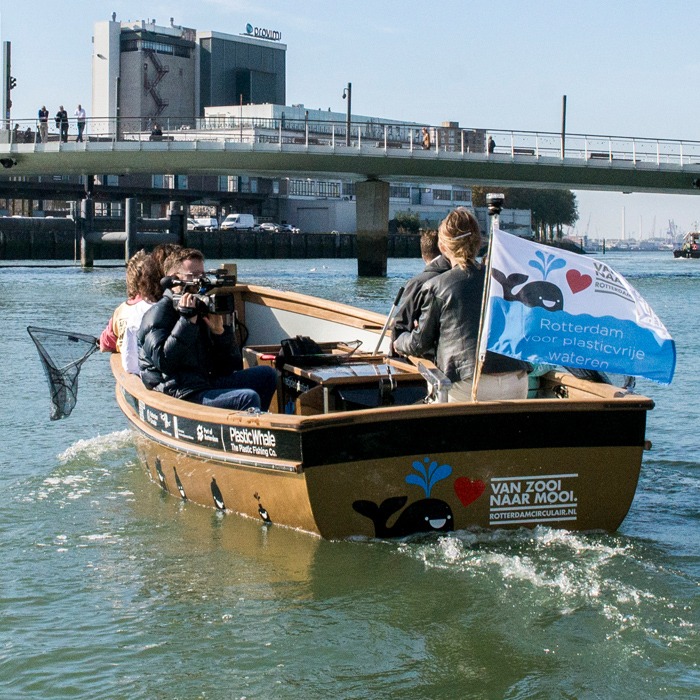 Plastic Fishing Rotterdam
We also go plastic fishing on the river de Rotte or in the Old Harbour. In Rotterdam you enjoy beautiful scenic views while we sail from natural surroundings to the city centre and back again. Jump Aboard!